Completing Transfer of Title, Access, & Payment - 'Conveyancing' at mytapu.com...
Legal Documents...

relying on a foreign buyer's lack of knowledge about legal documentation in Turkey, agent's & developers commonly ignore the issue of permits and documentation that shows whether the property legally complies with planning permission and has the necessary permits.
Legal Contracts...
the majority of legal contracts agents & developers provide do not protect the buyers deposit or rights and are not executed in a legally valid manner.
Buying a property in Turkey?
How do you ensure everything is ok, that the property is 'legal', that the seller is actually the owner, that there are no debts on the property?
In short, how do you make sure you are not being 'conned' or 'ripped off', but buying the property you have dreamed of, and not buying into a financial and legal nightmare that will plague you for the next 10 years?
These problems are dealt with by conveyancing experts… they make sure everything about the property and the transaction is in proper order. Many foreigners buying property in Turkey are persuaded by sellers and agents that they can negotiate and buy a property without independent professional expert advice. And many do, and that is the reason why so many foreigners have bought properties that do not have permits, have other problems, or are not 'legal'.
The experts at mytapu.com have advised more than 3,000 overseas investors on real estate purchases and sales in Turkey on asset values exceeding a total of more than $ 5 billion since the early 1990's.
See what our customer's say...
Contact: Advice@mytapu.com

Advisers on the team at mytapu.com
cover all matters related to a real estate purchase*, sale, re-possession, or financing transaction, including due diligence*, legal searches*, cadastral enquiries*, valuations* and appraisals*, mortgages and all forms of real estate finance, & insurances.
Service levels suit the smallest tasks, and completely managed services, and extend to legal case oversight management- selection of experts, cost control, and quality control, applied to the services provided by appraisal, tax, and legal advisers, and may be applicable to litigation, the use of special purpose vehicles, land management procedures, planning permits, construction permits, habitation certificates, contracts, translations, power of attorney… and more.
Please see 'Risks' below….

* These may be provided to clients using the Property Finders' Service at mytapu.com

Why is Conveyancing Essential...?

The Safe Way to Buy Property in Turkey
Re-Claiming Reservation Deposits...

Independent Professional Advice for Property Purchases in Turkey...
When or When Not to use a Solicitor for Property Matters in Turkey...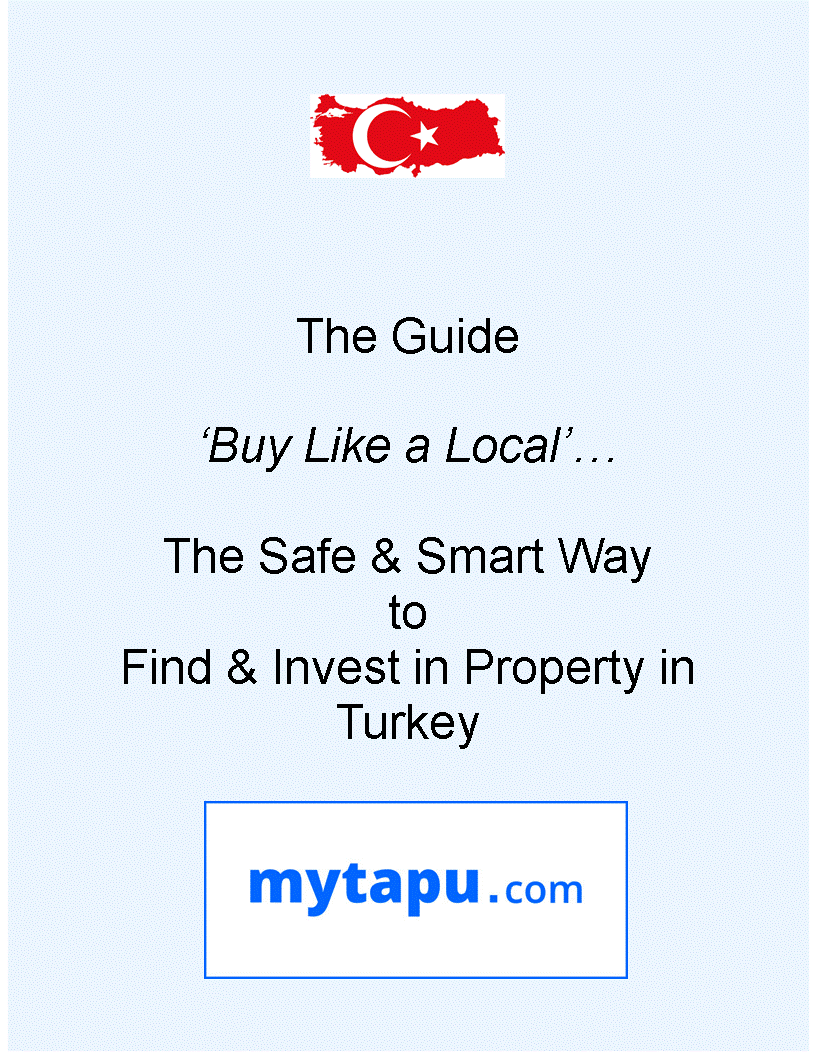 The team at mytapu.com are happy to advise, guide and support you in the purchase or sale procedures, the mortgage registration process, the attachment and removal of liens and encumbrances on the title, assessment of permits, valuations, tax registrations, notarisation, apostille, translations, documentary payments - all conveyancing & completion aspects of a property transaction.
In this way the experts at mytapu.com have assisted more than 3,000 foreign investors in Turkish property over the last 15 years. Buying a property is a substantial investment – taking sensible precautions to protect that investment at the beginning of the buying process, is the smartest step to ensuring trouble-free outcome,

at the end.
Conveyancing Preparations




A buyer is advised to seek independent professional advice for the Conveyancing, and local assistance in preparation for Completion. This is essential to ensure all the required paperwork is in order… documents related to the register, mortgages, valuations, insurance, tax receipts, and of course, payment documents. The mytapu.com team includes the experts- attorneys, appraisers, mortgage specialists, insurance experts, tax accountants- to call upon and manage all the documentation for all these requirements, as required, in all areas of Turkey, for exchanges, and buy/sell transactions.




Our policy is to oversee the requirements and apply the most cost effective solutions- so an expert in each specific discipline may not be required, as depends on each specific case. These services benefit from our policies of best practice governing the transaction process, as it applies to foreign non-Turkish buyers and sellers, streamlined with more than 10 years of experience, processing thousands of Turkish property transactions.
Transaction Completion
The transfer of property ownership normally takes two days, but can often be completed in one, with good advance planning, and if convenient appointment times are granted by the local Land Registry. Attending together, the seller will receive the payment from the buyer, and transfer the property registration to the buyer's name. In reality there are other things that need doing as part of this process- obtaining the documents verifying all manner of taxes have been paid, dealing with termination of utilities, and of course making the confirmations and acceptances of payment documentation with the banks. For these reasons, a non-Turkish speaker will need plenty of assistance from, and to accompany a Turkish speaking person, on the run around. Turkish language skills are required, as are patience, stamina, and resolve. T
his is the final step of the process - 'completion'.
Service Levels
The best case scenario is that all is professionally overseen and approved in advance, and the buyer completes at the land registry in person, with basic support services of translation and local guidance. Alternatively, the conveyance completion may be conducted by a mytapu representative on behalf of the buyer, under instruction of Power of Attorney.
Email: Advice@mytapu.com Help-Line: 00 44 1787 54 000 4 Chat Box below for more information...!

Complete the form below and a member of the Team at mytapu.com will be happy to help...!

A 'TAPU' is a certificate from a Land Registry in Turkey that provides ownership and cadastral information about real estate.
Every property owner in Turkey has one – and that's why we call our business ' my tapu'…mytapu.com.
Conveyancing and Transaction Management at mytapu.com...
What is Conveyancing? A term used in the UK to generally describe the service of transferring property ownership, a service provided to private clients purchasing or selling residential real estate, homes and property.


What is Transaction Management ? A term describing risk-mitigation practices & techniques used by professional & institutional real estate investors during an asset acquisition, re-financing, and sale/exit process.

Why Both? The team of experts at mytapu.com have provided these services to investors in Turkey at a time when there were no other service providers. In other words, we had to do it ourselves: relying on our prior knowledge & experience from investing in real estate markets in the US, Caribbean, UK, Spain, and Italy in the 1970's 80's, and 90's; and adapting 'best practices' by the institutional quality benchmark once referred to as 'London Standards'. We provided the services to private clients and professional investors alike, and have advised more clients than any other service provider in Turkey, beginning in the early 1990's, 20 years before the globally re-known firms entered the Turkish market after 2010. As such our in-house experts have considerably more experience and knowledge in their practice of Turkish real estate, then is available elsewhere. In the early days our services included macro & geo-political country risk assessment for institutional investors we brought and introduced to Turkey, and ranged through the entire spectrum of transactional risks, through to non-performing asset/loan work-outs. Our institutional clients have included the world's largest private equity fund, and many other PEREs, pension funds, insurance companies, and investment banks. The real estate assets have included Turkey's largest shopping mall, Istanbul's top tier hotels, port logistics infrastructure, light industrial assets, commercial office buildings, residential housing developments, and more…

What is the Difference ? A quick comparison of the differences and similarities between Conveyance and Transaction Management follows in the table below….
 

Conveyancing:


Private Client Home Purchases & Sales

 

Transaction Management:


Professional & Institutional Investor Clients

 

Procedure

 

Procedure

 

Fully managed directly with the counterparties, or by way of supporting guidance to the client, and a combination with 'a la carte' services available selectively.

Applying the standard purchase procedure, instead of the purchase procedure agents prefer to use when foreigners are buying – read more;

Applying specific cadastral documentation and Turkish terminology that can be utilised to ensure the agent/sellers are not tempted into misleading tactics and procedures.

 

The service levels and delivery are customised and tailored to the client's transactional investment management requirements.

 
 
 

Risks

 

Risks

 

Reducing risks on every aspect of the transaction:

determine whether property is fit for purpose, i.e. as a residential dwelling, meaning it has all required permits

free from encumbrances,

clear title

valuations, appraisals and eksper raporlar

guidance on paying deposits;

contract drafting

contract execution

mortgage financing

title transfer;

settlement;

documentary payments;

taxes;

and all ancillary matters, land registry appointments, tax documentation, translations, interpreters, Power of Attorney, tax numbers, DASK and other insurances, utility connections, etc

 

Transactional assessment may be customised to a client's requirements, covering all risks concerning the:

 
 
 

Rewards

 

Rewards

  Identifying & creating opportunities for financial gain by applying standard business practices. A High Value Added Service Offering we have performed successfully since 1986 in international real estate markets and Turkey
 

Step-by-step assessment of risks and tactical positioning can and does provide opportunities for advantage and financial gain during the transaction procedure.

 

Costs

 

Costs

 Standard conveyancing fees charged by local coastal Turkish lawyers are priced far too high, and the services they provide are deficient- not on a par, and do not cover the items provided in a UK conveyancing or structural survey, or valuation. The services provide by mytapu.com are priced below the fees charged by local coastal solicitors in Turkey….are priced at little more than a normal conveyancing fee in the UK, and are completely inclusive covering specific actions required specifically in Turkey.
 

The costs are higher than more efficient international capital markets, but on a par with most developing markets; title ownership, lien registration, and claimant registration are reasonably transparent.

 

Technique

 

Technique

 Managed vs. Guided; standard residential conveyance methodology for Turkey, applied with a complete knowledge of the local cadastral, contractual, banking, mortgage finance, and construction permitting legal frameworks and regimes in Turkey, in Turkish language.



Negotiation:


Most private clients mistakenly believe they can negotiate the purchase of a property in Turkey by themselves. This is the number reason why so very many foreign property owners in Turkey purchased properties with problems- no permits or habitation certificates, no tapus, etc How is it possible to negotiate a purchase without knowing what questions to ask, or knowing the specific property regime in a foreign country in a foreign language? In their home countries, the UK for example, the buyer would use a solicitor or conveyanacing manager, but due to the persuasive tactics of local agents and developers in Turkey, many foreign buyers have been mislead and wrongly convinced it is safe to do without independent professional advice, or have been persuaded to use solicitors that are friendly with the developer, and thus have a vested interest, and are not impartial, and do not exercise 'due care' in protecting the clients interests. Read more here…

Four decades of experience in managing transactional opportunities allow ample room for asymmetric tactical positioning, applying the techniques adapted from & utilised by the most successful real estate investors.





Negotiation:





Customised and tailored to the client's transactional investment management requirements. Choices range from fully managed, team leader, to supporting team member functionality.