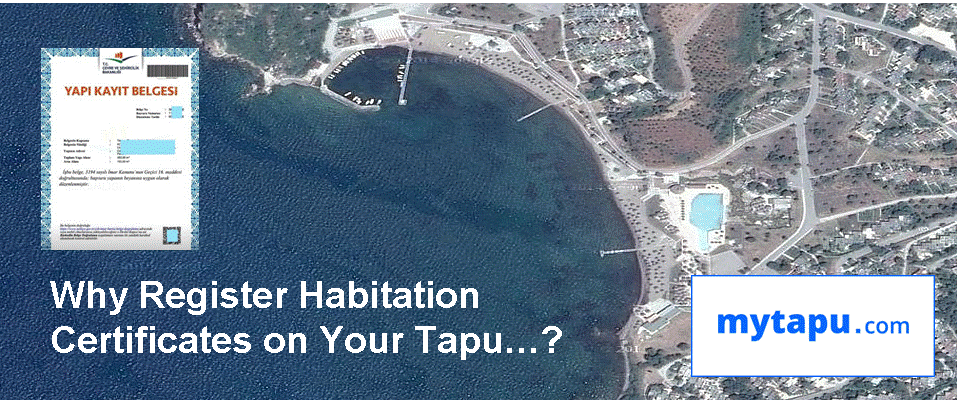 Question: Should I have the new habitation certificate registered on a new tapu now, or can it wait?
Clarification: Obtaining a newly updated tapu which shows the new habitation certificate, the Yapi Kagit Belgesi, has been issued, is a good idea to have done now, and here's why. On many old tapus, the status of the planning permissions (and other things such as ownership) is not always clear, and often ambiguous. This is partly because different land registries in Turkey did things differently from one another at different times in the past. (How and why this occurred is another story, with historical and cultural context dating from Ottoman times.) Slowly matters are converging towards standardisation. So on an old tapu, it may be presumed that certain things have been done and are in order, but there is no verification. Sometimes these presumptions apply to more than one issue. So the one sure way to attest to having a tapu that is 'all clear', is to have a new one issued. By doing so, the presumptions are then checked officially, in the back channels of the belediye and land registry, and the new tapu will, or should, provide unequivocal attestation that all is in order – at least it eliminates any red flags that would serve as a beacon for future investigation or questions.
So why do it now? The reason is a practical one. Doing it now means that whatever those underlying presumptions were, they would and should have been checked and verified during the Iskan amnesty process of issuing the new habitation certificates. This process entailed a huge volume of work, overloading back office staff (generating more than $5 billion in revenue), and shortcuts may have been presumed to have been applied. And if the necessary checks weren't applied, the relevant actions and procedures will need to be implemented in the belediye and land registry back offices. Doing it now is the best time, whilst all those same checks should have been performed recently, and if they weren't, now is the time to make sure. Its no good waiting six months from now, when all the overloaded staff in the back offices have said good riddance to that Iskan amnesty workload and back-log, and so happy it's over and to be rid of it: in six months they won't remember, will play a blame game with one another, and another 'mess' ensues. So get it done now, while there is still some clarity in memories about what was done and why.
An important aspect to consider is that many, many applications were received for types of issues that were not originally envisioned when the iskan amnesty was introduced. In other words, the scope of the amnesty broadened considerably in practice, to accommodate many other types of issues, beyond the initially intended registration of easement right uplift. The 'wild west' of Turkish property development over the last ten years has innovatively created all sorts of issues that were never imagined or forseen- the un-imaginable. How-so-ever the back office personnel at the belediye and land registry have chosen and managed to apply 'work arounds' to these many variations for specific cases, only they themselves personally know. Any aspersions cast upon the habitation certificate registration in the future will definitely require legal assistance and costs. And so it's best to get your tapu, 'over the finish line' now, whilst those work-arounds are somewhat recent in the workers memories, and with the same perseverance that was applied in getting your iskan or habitation certificate 'over the finish line.
The last comment is this… all this is new- it has never been done before… and for that reason there are still unknowns to be dealt with… 'known unknowns' and 'unknown unknowns'…
The very last words are these, from perhaps the most famous saying in the Turkish vernacular….
'Burasi Turkiye, her sey olabelir…'
Translation: 'This is Turkiye- anything and everything is possible…'
Keep informed about property matters in Turkey, with articles like this one…
Sign-up for our periodic Newsletter here…or here…
At mytapu.com our policy is to ensure our clients are fully informed, so that they may make fully informed decisions- this helps to ensure better outcomes all around.
Building Trusted Relationships is Building Our Business...!
See What Our Clients Say About Us...
Additional Reading:
Legal Services for Property Matters in Turkey